EGNSS-R
European GNSS Navigation Safety Service for Rail
Background &amp Objectives
Background
Localisation systems, also known in railway as signalling systems, are used to ensure train safe traffic, i.e. no collision or derailment. Historically, signalling systems were specific to each area of operation. Interoperability across Europe was achieved through the ERTMS set of  technical specifications , under ERA patronage.
The current ERTMS system relies on train on-board odometry coupled with trackside detection systems to get trains speed and track occupancy computed on the trackside. To augment railway performances and sustainability, trains should continuously compute their position and speed on-board (ERTMS level 3), using EGNSS hybridised localisation systems. The usage of EGNSS hybridised localisation systems could already start with ERTMS level 2 while being specified for ERTMS level 3.
In this new paradigm, a concept of integrity for train safe localisation is needed, modelled on what was already done in other domain, e.g. EGNOS in civil aviation. 
The European Commission (EC) is defining the roadmap for the long-term evolution of the EGNSS programme (i.e. EGNOS and Galileo), including new services of Galileo and EGNOS. In that context, studies have been launched in order to investigate the design of an EGNSS-based safety service tailored for rail users and thus able to address the need for an accurate and trustable train localisation.
Project objectives and activities
The objective of EGNSS-R is to assess the feasibility of EGNSS-based safety service for the rail beyond 2022. Such service would enable the introduction of GNSS in railway localisation.
The EGNSS-R project studies a mix of EGNSS and navigation techniques to bridge railway satellite outages (local feared events such as satellite signal masking, multipath, and signal interferences). ENGSS-R also proposes an EGNSS-based safety service that enables continuous train localisation for safety-critical applications with an incremental deployment approach and associated integrity conceptThe project is composed of five main sequential tasks.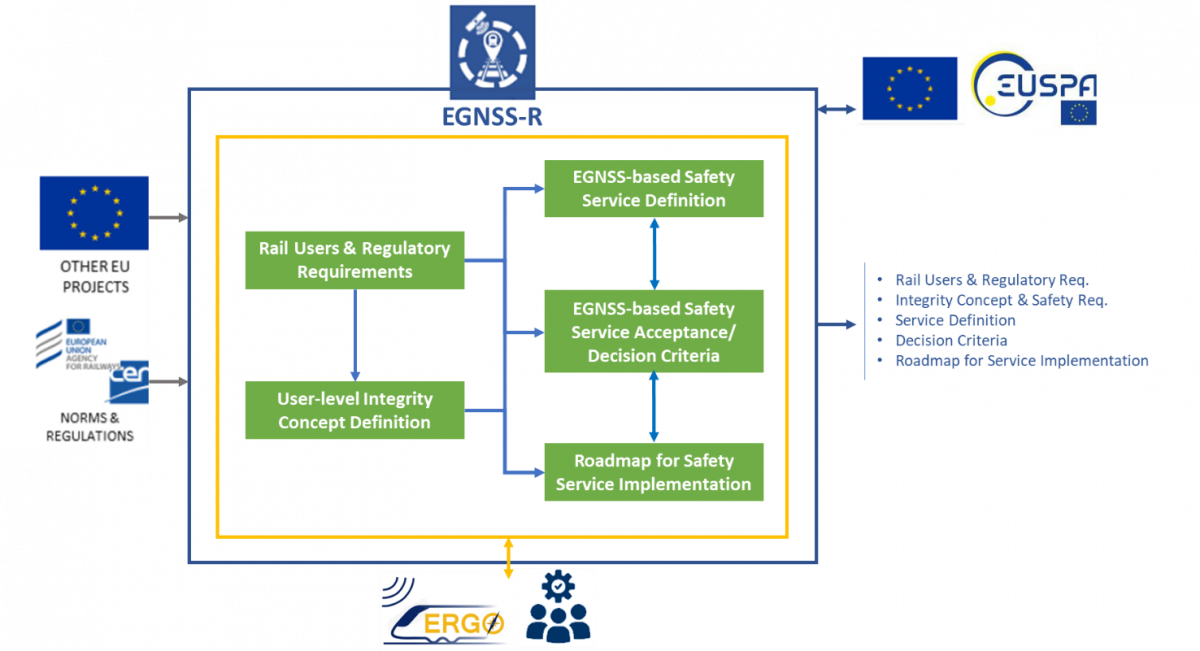 The methodology starts with the identification of operational requirements, safety requirements and system feared events based on inputs from other European projects, European railway organisations and from a working group set-up by EUSPA, called ERGO (Experts in Rail for EGNSS Operational use),  which involves key representatives from railway operators, railway and GNSS industry. These elements are then translated into a user-level integrity concept and a EGNSS-based service definition for safety critical railway applications. The overall designed concept will then be analysed to determine the decision criteria for the EGNSS-based rail safety service acceptance by the ecosystem. Finally, the roadmap for the EGNSS-based safety service for rail implementation will be developed. The project benefits from the insights of the ERGO panelduring the activities proposed.
EUSPA Project Officer:
Silvia Porfili - Silvia.PORFILI@gsa.europa.eu
European Commission Project Manager :
Project Call:
H2020 EGNSS Mission & Services
Contract Number:
Call for Tenders No 762/PP/GRO/19/11304
Work performed & results
The first phase of the project was completed in April 2021 and led to the definition of a consolidated set of requirements relevant to the train localisation system. The activities are now concentrating on the user-level integrity concept design and proof of concept. This phase includes use cases definition, quantitative and qualitative trade-offs on sensors coupling, high level risk analysis and preliminary safety apportionment to different system components. The concept is expected to be agnostic regarding the architecture of the train localisation system, in order to be compliant with ERTMS and RCA requirements (The RCA initiative advocates for trackside requirements agnostic w.r.t. technology. It is formed of railway operators and is interfaced with the (ERTMS User Group body.).
During EGNSS-R first activities iteration, the following tentative architecture for the on-board train localisation system has been defined:
Test definition activities are going to begin soon and will be primarily focused on the integrity service tests.
The work on an EGNSS-based safety service proposal for rail and its associated roadmap is expected to start in June 2021 on the basis of the draft preliminary integrity concept. The service proposal will include both a short-term solution for a 2025+ deployment based on EGNOS and a long-term solution (2030+) that could necessitate a more specific infrastructure. Both solutions will rely on the same concepts. Concerning the short-term solution, Shif2Rail outcomes (related to work stream 1 on virtual balise and stream 2 on stand-alone positioning), as well as EUG/ESA/EUSPA inputs for ERTMS CR1368 are being reviewed, in order to keep consistency with the on-going work. Regarding more specifically the long-term solution, dissemination means and in particular EDAS-like services together with their requirements will be studied.
Expected Impact
GNSS was recognized by the railway community as one of the key game changers that could improve efficiency of train localization within the future ERTMS evolution. The EGNSS-R study should help clarifying whether a railway EGNSS-based safety service needs to be created, and if so, which scenario could be used (EC / EUSPA / ESA impact). 
In addition, the integrity concept first proposals will feed ERTMS standardisation processes on GNSS introduction in the railway domain. It will also engage the first step for rail multi-sensors localisation system certification, which is to be built-up (ERA and rail safety national bodies impact).
Disclaimer: The project proposals represent the views of the consortium. They do not necessarily represent the views of the European Commission and they do not commit the Commission to implementing the results.
Partners
Airbus Defence and Space SAS