Many European businesses operating across a wide range of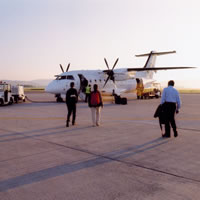 sectors are looking to secure a share of the massive GNSS global market. According to the latest edition of the EUSPA's EO and GNSS market report, in 2020 almost 1.8 bln GNSS devices will be shipped, with annual shipments set to exceed 2.5 bln units in 2029. Furthermore, the global GNSS downstream market is continuing to grow rapidly and in 2019 the global installed base of GNSS devices in use is forecast to reach almost 6.5 billion, while global GNSS downstream market revenues from both devices and services are set to reach €150 billion.
EGNOS better positions European businesses, service providers and users to capitalise on the many opportunities that GNSS provides in general and on this downstream market in particular. This is especially true in the development of safety-critical applications. In fact, because EGNOS improves the accuracy and reliability of GNSS positioning information while also providing a crucial integrity message regarding the continuity and availability of a signal, it has proved essential for a number of navigational services and applications.
Thanks to its increased reliability, EGNOS makes possible a number of efficiency gains and cost-savings across an array of market segments, including aviation, agriculture, mapping, maritime, road, rail, location-based services, and timing and synchronisation.
You can learn more about how EGNOS benefits each of these sectors here.