The EU Space Programme consists of several flagship programmes:
Copernicus is Europe´s Earth observation programme. Through its land, marine, atmosphere, climate change, emergency management, and security services, Copernicus supports a wide range of applications including environmental protection, management of urban areas, regional and local planning, agriculture, forestry, fisheries, health, transport, climate change, sustainable development, civil protection, and tourism.
Galileo is EU´s Global Navigation Satellite System (GNSS), providing improved positioning and timing information with significant positive implications for many European services and users. It allows users to know their exact position with greater precision than other available systems and supports emergency response and Search & Rescue. Galileo also enhances European innovation, contributing to the creation of new products, services and jobs.
EGNOS, the European Geostationary Navigation Overlay Service, is EU´s regional satellite-based augmentation system (SBAS). It is used to improve the performance of global navigation satellite systems, such as GPS and Galileo. It has been deployed to provide safety of life navigation services to aviation, maritime and land-based users over Europe.
GOVSATCOM (Governmental Satellite Communications) programme aims at providing secure and cost-efficient communications capabilities to security and safety critical missions and operations managed by the European Union and its Member States, including national security actors and EU Agencies and institutions. GOVSATCOM is one of the elements of the Global Strategy for the European Union's Foreign and Security Policy of June 2016. The Programme will contribute to the EU's response to specific threats, provide support to the EU Maritime Strategy and the EU Arctic Policy.
SSA (Space Situational Awareness) is an essential component of the EU Space Programme. By providing comprehensive knowledge and understanding about space hazards, SSA plays a key role in ensuring the safety and security of the European economies, societies and citizens who rely on space-based capabilities and applications such as communication, navigation and observation applications. SSA mitigates the risk of a collision between European space assets – such as Galileo, EGNOS, Copernicus and GOVSATCOM satellites – and other spacecraft and debris.
IRIS2(Infrastructure for Resilience, Interconnectivity and Security by Satellite) is the new EU Satellite Constellation in reply to the secure connectivity challenges of nowadays digital era. By offering enhanced communication capacities to governmental users and businesses while ensuring high-speed internet broadband to cope with connectivity dead zones, IRIS2 will constitute a new space-based pillar for a digital, resilient and safer Europe and foster European competitiveness and societal progress. The implementation of IRIS2 will follow an incremental approach with the ambition to deliver initial services in 2024 to reach full operational capability by 2027.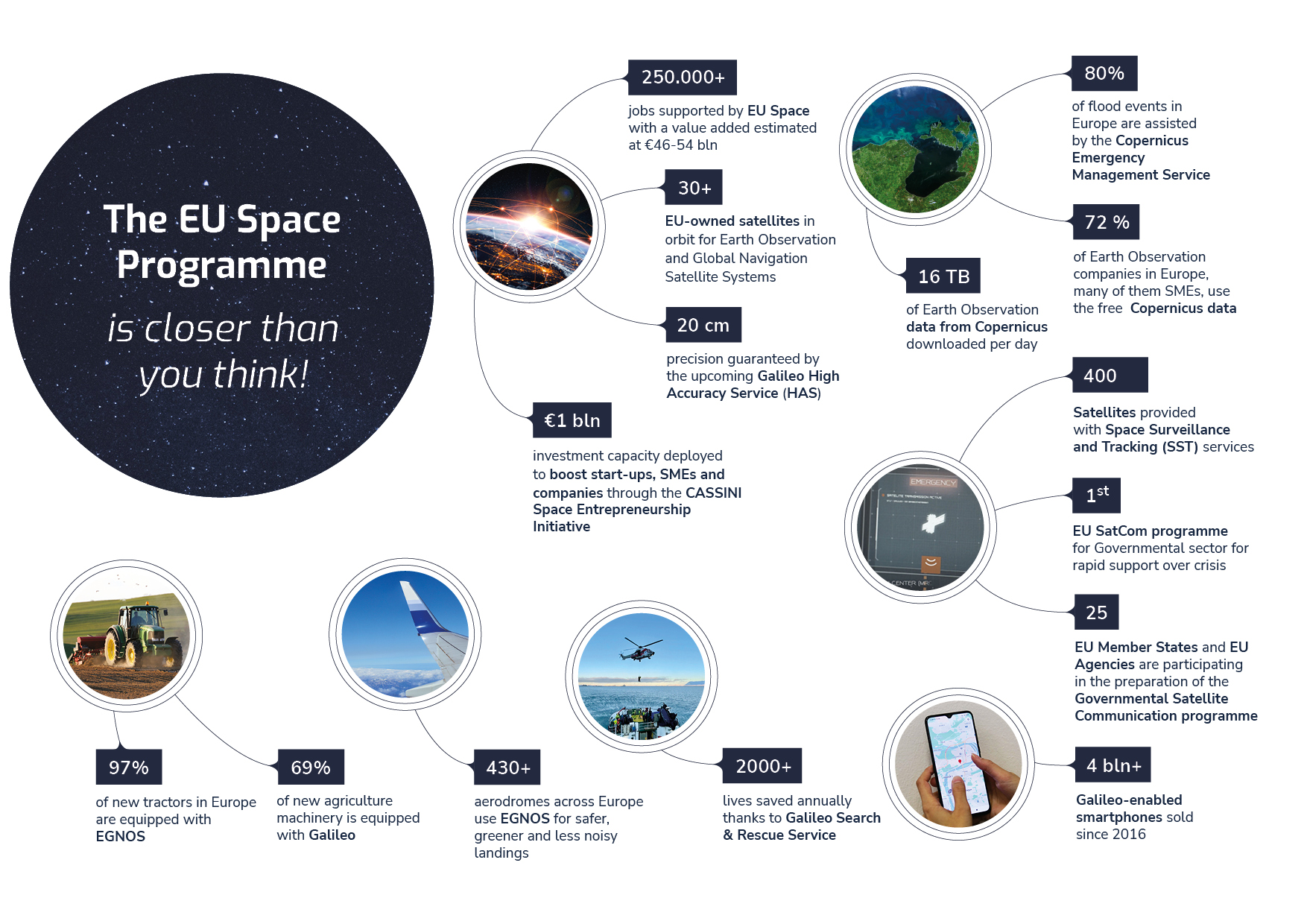 Click the image to enlarge
EU Space makes a significant contribution to Europe's security, which is set to increase with the launch of the GOVSATCOM secure communications programme. It also establishes the European Union as a global power in space, ensuring Europeans to benefit from the economic and societal benefits that space has to offer.
Thanks to the services and applications it enables, from atmospheric monitoring and precision farming to safer aviation and automated driving, and its contribution to the EU economy and society, EU Space has become indispensable to the lives of Europeans.