Being EU Maritime Day and all, why not take a few minutes and check out this article about how EU Space enables safer maritime operations – including search and rescue operations.
EUSPA, together with Eurisy, recently co-organised a workshop on Satellite-based Services for Disaster Risk Management. Held in Nicosia, Cyprus, the workshop brought together national and regional stakeholders to discuss how satellite-based services can support disaster risk management and search and rescue operations.
The workshop was hosted by Cyprus, in cooperation with the Department of Electronic Communications, Deputy Ministry of Research, Innovation and Digital Policy and EURISY.
The event kicked-off with a number of keynote speakers, including from Deputy Minister of Research, Innovation and Digital Policy Philippos HADJIZACHARIAS stated that "investing in Space means investing in the future". "Space is seen as a driver of innovation, growth and competitiveness and a key factor in accelerating the twin digital and green transitions and promoting societal well-being. The vast amounts of information provided by satellite systems can be used in a variety of sectors, and one of them is Disaster Risk Management," he said.
"While Galileo, EGNOS, Copernicus and GOVSATCOM are powerful tools in their own right, the Emergency Management and Disaster Response sector stands to benefit the most when these solutions are used in synergy," added EUSPA Executive Director Rodrigo da Costa. "That's why, as a user-oriented agency, EUSPA closely follows this market's needs and works to shape and deliver new space-enabled services accordingly."
Supporting a range of disaster scenarios
Speakers also provided insight on how the various components of the EU Space Programme can be used to support a wide range of disaster scenarios – including fighting wildfires. For instance, fire departments and decision makers are using Copernicus data to help mitigate the risk of fires before they happen and to battle them when they do. They're also replacing their ground-based systems and use of rotorcraft with drones equipped with a range of sensors for capturing data. Such systems are particularly beneficial in rural and remote areas, where Earth Observation-equipped drones guided by the precise positioning offered by GNSS can provide wildfire fighters with another layer of information – and protection.
The use of European GNSS is also helping save lives. Take for example the European 112-emergency number. Thanks to the inclusion of Galileo signals in most mobile phones, when someone places an emergency call, the emergency responder will receive their location information with an accuracy down to just a few metres. This level of accuracy has had a major impact in terms of response times, ultimately allowing for quicker intervention in emergency situations where every second counts – resulting in more lives being saved.
Last but not least is the forthcoming GOVSATCOM, which provide secure, cost-efficient communication capabilities to security and safety-critical missions, operations and infrastructure. "Galileo provides information about where you are, Copernicus provides information about what is around you and GOVSATCOM provides resilient, secure and high-availability connectivity to the disaster area in order to coordinate the rescue teams and get real-time on-site information. Thus, GOVSATCOM complements the existing space-based tools provided by the EU Space Programme to support disaster risk management," said Georgios Synnefakis, EUSPA GOVSATCOM programme manager.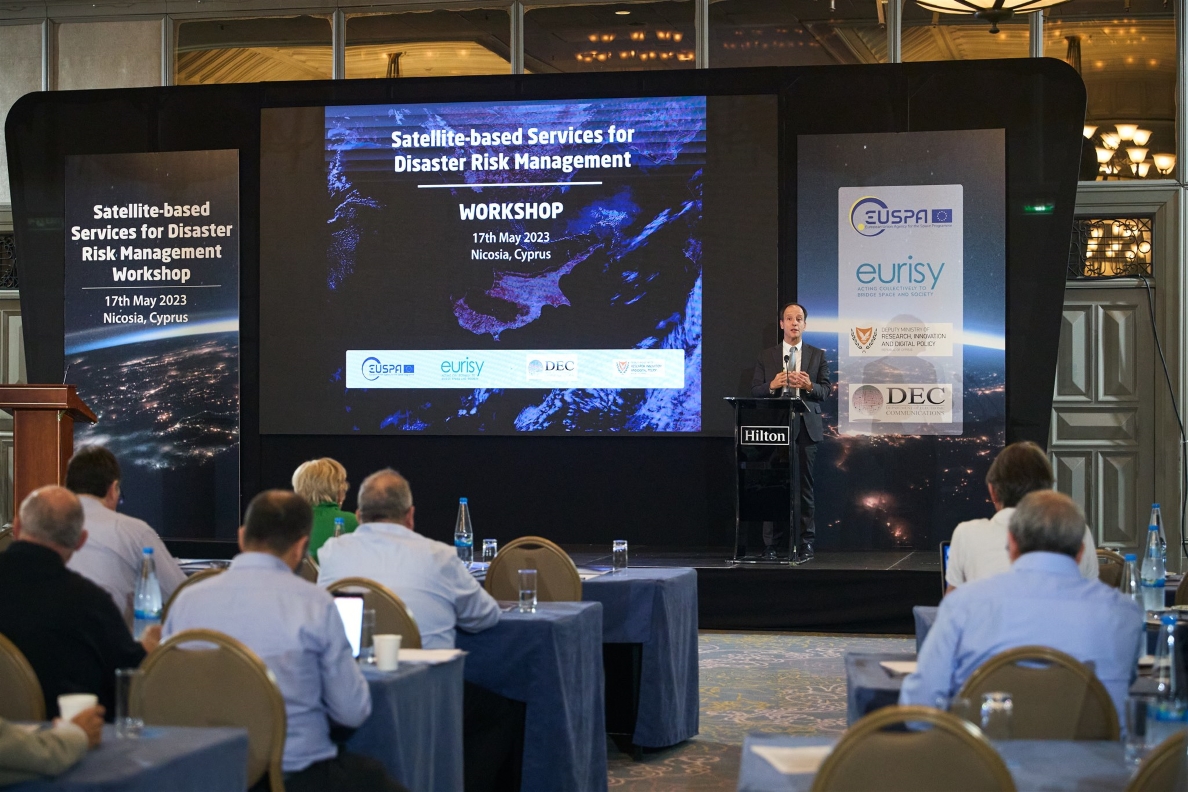 EUSPA Executive Director Rodrigo da Costa presenting the EU Space Programme at the Satellite-based Services for Disaster Risk Management
The policy perspective
The programme concluded with a high-level policy panel moderated by EUSPA, where decision-makers were invited to shed light on the national and European policy framework, as well as share their perspectives on the future of risk assessment and management.
Galileo Search and Rescue in action
Parallel to the Eurisy workshop, the Cypriot authorities organised a Search and Rescue exercise as part of the larger ARGONAUT 2023 military exercise in presence of Minister of Defense, Michalis Giorgallas. In the exercise, several EU and NATO Member States participated, including Greece, France, the US, Israel, Italy and Cyprus.
The scenario involved a passenger ship traveling from the Middle East Region towards the Republic of Cyprus when it sent out a MAYDAY alert.
A Galileo-enabled EPIRB equipped with the ground-breaking Galileo Return Link Service (RLS) was successfully activated to notify the authorities.
The emergency signal was picked up by the Maritime Rescue Coordination Centre (MRCC) in just under 2 minutes, confirming once again Galileo's excellent performance.
"With the EU recognising European Maritime Day this week, this demonstration shows how the EU Space Programme provides European maritime operators, seafarers and national authorities with the tools they need to enhance safety at sea, optimise navigation performance and protect our oceans," said da Costa, who watched the exercise live from the Joined Rescue Coordination Center.
Media note: This feature can be republished without charge provided the European Union Agency for the Space Programme (EUSPA) is acknowledged as the source at the top or the bottom of the story. You must request permission before you use any of the photographs on the site. If you republish, we would be grateful if you could link back to the EUSPA website (http://www.euspa.europa.eu).