Lake Balaton, as captured by Copernicus Sentinel-2 imagery. Credit: European Union
The recent severe droughts and extremely high temperatures in Hungary, led rivers and lakes to dry up, negatively impacting the country's economy and ecosystem. With that in mind, EUSPA, together with the Ministry of Foreign Affairs and Trade of Hungary and Eurisy, co-organised a workshop on Satellite-based Services for Disaster Risk Management. Held in Budapest, the workshop brought together national and regional stakeholders to discuss how satellite-based services can support both disaster risk management and search and rescue operations.
Dr. Orsolya Ferencz, Ministerial Commissioner for Space Research at the Ministry of Foreign Affairs and Trade, presented an overview of Hungary's space strategy and outlined its implementation milestones. Speaking about the workshop, Dr Ferencz stated, "This gathering is important in addressing the challenges we face in emergency situations. By leveraging innovative tools and satellite technologies, we can make evidence-based decisions and better respond to disasters."
Visualising with Copernicus 
Copernicus, the EU Earth Observation programme provides up to date, near real-time optical information about disasters such as wildfires and floods. 
More precisely, the Copernicus Emergency Management Service (Copernicus EMS) uses data from a range of satellites and ground-based sensors to provide information about the location, extent, and behaviour of fires and floods. This information helps emergency responders make informed decisions regarding where to direct resources and in the case of fires, how to contain the blaze. The service is provided free of charge to all users.
But there's more. Wildfires are a significant source of air pollution which poses a threat to human, animal, and plant populations. 
When a disaster such as a wildfire strikes a region, it is important to have access to precise and up-to-date information for the delivery of an effective disaster management response. The Copernicus Atmosphere Monitoring Service (CAMS) can monitor emissions which can, in turn, be used in smoke forecasts. These forecasts are used in air quality apps to help people limit their exposure to pollution, and by policymakers and local authorities to manage the impact of fires.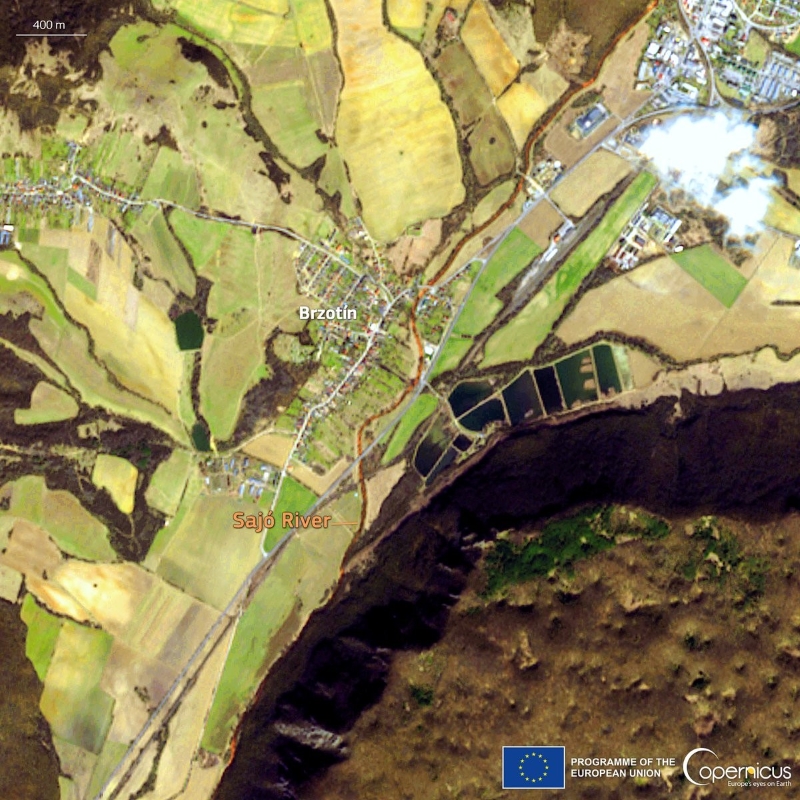 Sajó is a river that flows between Slovakia and Hungary turned orange in March 2022, probably due to an episode of iron pollution
Secure and reliable positioning with Galileo and EGNOS 
Galileo, the EU global navigation satellite system and EGNOS the EU's regional navigation system have revolutionised various sectors of the European economy such as agriculture and transportation. But their contribution goes even further by helping to save lives. 
Take for example the European 112-emergency number. As of March 2022, it became mandatory for all mobile phones sold in the European Single Market to be Galileo enabled. When someone places an emergency call, the emergency responder will receive their location information with an accuracy down to just a few metres. The improved accuracy has a major impact in terms of response times, ultimately allowing for quicker intervention in emergency situations where every second counts – resulting in more lives being saved. The ability for 112 to communicate a caller's location automatically to emergency services is possible thanks Advanced Mobile Location (AML) system which is already available in Hungary.  
Likewise, in case medical assistance is needed, helicopter operators and pilots can rely on EGNOS to land safely, especially when visibility is reduced due to fire smoke or fog. Additionally, services like the Galileo High Accuracy and OSNMA services ensure that drones deliver accurate mapping as well as assistance to inaccessible areas due to natural disasters such as earthquakes.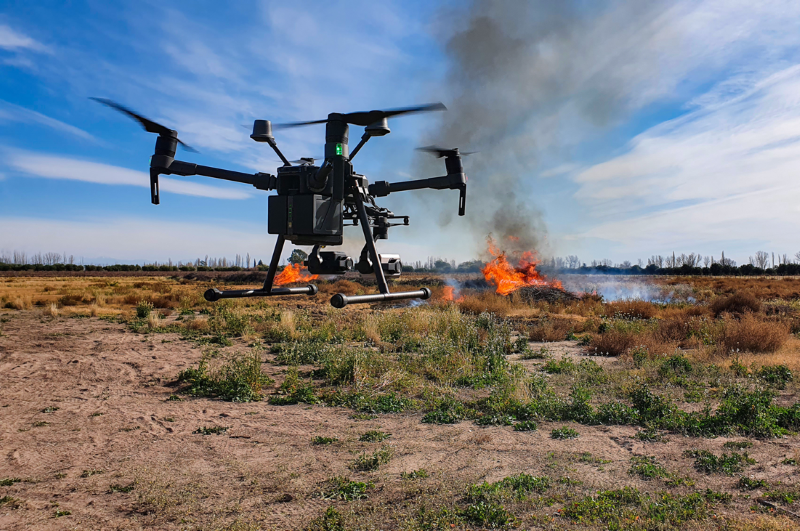 Equipped with a wide-range of sensors for capturing Earth Observation data and navigated using GNSS positioning, advanced drones can now provide firefighters with another layer of information – and protection.
Communicating with GOVSATCOM and IRIS2 programmes 
GOVSATCOM and IRIS2 will provide robustly protected communication, filling the gap for secure communication alongside Galileo and Copernicus. These solutions enable secure and cost-efficient communication for critical missions, operations, and infrastructure. EUSPA, in collaboration with Member States and other entities, oversees the procurement, operations, and user coordination of the secure ground segment (GOVSATCOM Hubs).
The power of synergy
Rodrigo da Costa, Executive Director of EUSPA, provided the European perspective on the integrative use of components from the European Space Programme. "Galileo, EGNOS, Copernicus, are powerful tools individually, but an exponential achievement is reached when used in synergy. Soon, the addition of GOVSATCOM and IRIS² will add an extra layer of efficiency in the management of disasters by providing secured and uninterrupted satellite communications to EU Member States. The Emergency Management and Disaster Response sector is one of the key sectors where this synergy is saving lives". "As an agency focused on meeting user needs, EUSPA closely monitors this market and actively develops and delivers new space-enabled services to address its requirements" he stated.
Media note: This feature can be republished without charge provided the European Union Agency for the Space Programme (EUSPA) is acknowledged as the source at the top or the bottom of the story. You must request permission before you use any of the photographs on the site. If you republish, we would be grateful if you could link back to the EUSPA website (http://www.euspa.europa.eu).