The International Agricultural Exhibition (AGRO Show) took place on 21 – 24 September 2012 in the rural area of Bednary north east of Poznan in Poland. This was the fourteenth version of the largest open-air agricultural exhibition in Europe. And it is huge: over 700 exhibitors and more than 150 000 visitors from 10 different countries during the full weekend.
The AGRO Show seeks to support farmers and assist the development of rural economies. It has become the meeting place for technology and farming, so it was highly appropriate that the GSA's first promotional venture 'on the ground' in Poland should be here.
The GSA, together with the European Commission, works to accelerate the adoption of EGNOS (the European Geostationary Navigation Overlay Service) by European farmers by demonstrating its tangible benefits and by creating awareness of its added value. The high-profile presence of EGNOS at AGRO Show was part of that effort.
Complete coverage
"Poland is an important market for EGNOS, especially for agriculture" says Reinhard Blasi, Market Development Officer at the GSA. "And with the recent extension of EGNOS the coverage in Central and Eastern Europe has been greatly increased: the whole of Poland is now fully covered. Our job here is to explain how EGNOS can be useful and profitable for farmers and demonstrate the advantages of using the EGNOS Open Signal and EDAS, the EGNOS Data Access Service that is cost-free and available now for precision agriculture."
The EGNOS stand was within the exhibition area for CLAAS Agrosystems, a software, system and machinery company for precision farming operations. CLAAS markets its navigation equipment as EGNOS-enabled and the EGNOS stand was surrounded by the latest high-tech tractors, combine harvesters and other farm machinery.
"More and more farming applications in Poland are working with EGNOS," says Jerzy Koronczok of Agrocom Polska. "This work includes ploughing, general preparation, fertilizer and other agrochemical applications, combining etc. The technique is also used frequently for field boundary measurement and soil sampling."
Jerzy was very positive about the technical aspects of EGNOS. "We say that EGNOS is usually for 15 – 30 cm path-to-path accuracy but we have found that 6-7 cm is often possible," claims Jerzy. "And now all Poland is covered by EGNOS with a very stable and reliable signal. In particular the time to first fix – an important parameter for a busy farmer - is really quick."
"The market is growing very quickly both for precision agriculture applications and EGNOS," he concludes.
Radoslaw Jablonski of Land-Data Eurosoft agrees. From his stand in the John Deere exhibition area he sees the EGNOS service evolving over time. Many of his larger farm clients are using it, but EGNOS enabled services are also used by smaller farmers. "Having had experience with EGNOS, farmers then are also willing to invest in further GNSS-technology for higher value crops such as vegetables," he states.
Diverse market
The diverse nature of the Polish market was highlighted by Justyna Iwaszkiewicz, Operations Manager for CLAAS Poland. "Poland has over one million farms: the vast majority are small or very small entities using relatively simple equipment,' she says. "But there are 2 500 – 3 000 very large farms, with an area greater than 500 ha, that must have the most sophisticated machinery and operate in a highly professional way."
Many of these larger farms are internationally owned and rapidly embrace the latest technology. Another feature of the Polish market is that contractors are rare and farmers – even the smallest - like to own their own machinery.
"Over the last five years sales have been very good, due to supporting programmes funded by the European Commission and the Polish government, with farmers investing in new technology," says Justyna. "They can see the technology helps increase margins and their income – so the farmers are ready to accept new technology."
One feature is the increasing demand among many farmers for GNSS-based steering. "It is a growing market and the benefits of EGNOS for assisted steering are being perceived by farmers working on smaller fields – starting at 15 to 30 ha size," says Christian Messinger of CLAAS.
 "Smaller fields will be manually driven. EGNOS enabled driver assistance starts for farmers starting at around 30 ha and RTK-based full auto steering is the norm for 100 ha and above fields," agrees Jerzy Koronczok.
 "Guided steering and related techniques allow 24-hour farming. This saves time and money for the farmer and the data it provides on yield mapping can be used to make real differences in productivity."
Innovation and education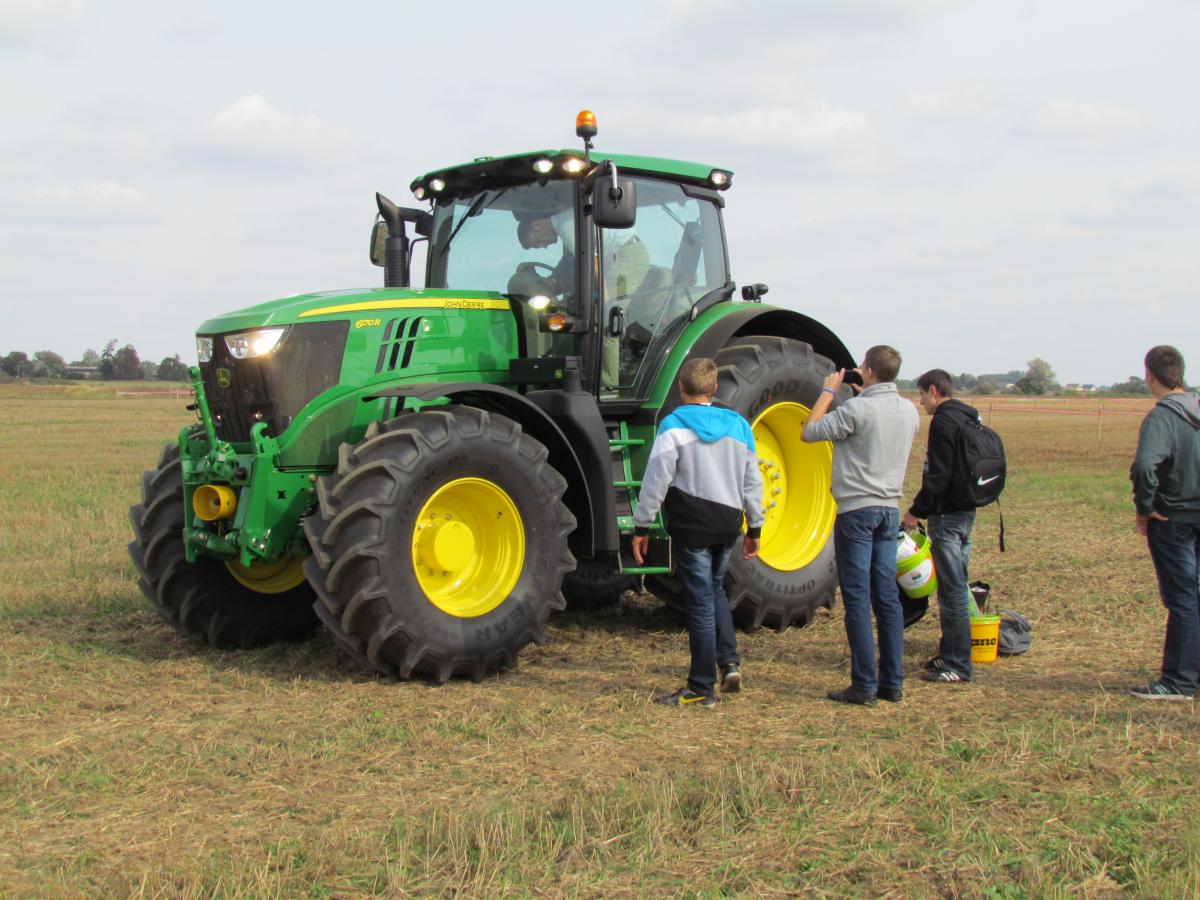 The EGNOS stand at AGRO Show was also promoting the €10 000 'Farming by Satellite Prize'. The contest is open to students and young farmers across Europe with innovative ideas for using satellite technology in agriculture to improve production, efficiency and profit or reduce environmental impact.
Registration open until end of October: sign up now
The aim of the competition is to promote the use of satellite navigation in agriculture and its benefits to end users. Individuals or teams can contribute new ideas and innovations: in particular, ideas relying on the EGNOS and forthcoming Galileo systems.
Kicking off the show's series of seminars Dr. Miroslaw Czechlowski of the Biosystems Engineering Institute at the University of Life Sciences in Poznan described the potential for GPS and GSM based systems to improve productivity in farming through application of precision agriculture techniques and data handling such as yield mapping. His talk was mainly aimed at professionals involved in agricultural education, but was attended by many interested farming practitioners as well.
EGNOS for precision agriculture
EGNOS delivers services based on GPS and GLONASS signals and augments them to increase their accuracy. This enables metre to metre-precision and path to path accuracy of 15-30 cm or better opening the way to precision agriculture.
This highly effective farming strategy allows farmers to better allocate inputs, such as seeds and fertilisers, to increase productivity, while lowering costs and minimising environmental impact. Traditionally, the main obstacle to wide scale application of precision agriculture has been the substantial investment required. Now, the EGNOS Open Service has fundamentally changed the equation by offering high precision at low cost.
With EDAS, the EGNOS Data Access Service, the EGNOS signal can be received also via GPRS connections and enabling EGNOS benefits also in difficult environments where the EGNOS satellites are not in sight. 
The main advantages of satellite technologies in agriculture include high accuracy and repeatability of the same action year on year. These two fundamental advantages lead to valuable benefits such as reduced waste through over-application of fertilisers and herbicides, reduced seed consumption, fuel and time savings, lower fatigue and optimisation of crop yields.
Media note: This feature can be republished without charge provided the European GNSS Agency (GSA) is acknowledged as the source at the top or the bottom of the story. You must request permission before you use any of the photographs on the site. If you do republish, we would be grateful if you could link back to the GSA website.
More information: